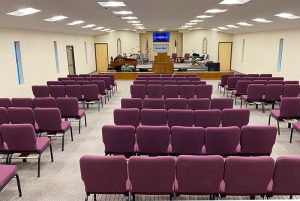 We recognize the mission of the church is to evangelize and make disciples of all who will hear and receive of Word of God.
Our church is a Bible-based, Christ-centered, Spirit-filled community of believers striving to fulfill the Great Commission in the power of Pentecost.
We offer growing Christian programs with Spirit-filled, Bible-believing teachers equipped to disciple each age group of your family.
In our services you will experience blended music with uplifted singing meant to bring the soul into the wonderful presence of the Lord.
Ministry to the families will be a high priority, for the family is the basic building block of our society and our church.
We will become involved in the community where possible with the intent to impact our city for the Lord Jesus Christ.
Visitors will be given special and loving attention from our church family.
It is our desire to please the Lord and build a thriving, healthy church for the Lord Jesus' kingdom.